Services
---
Family History Research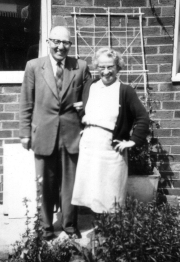 I can offer a research service fully tailored to your needs (and budget).
Maybe you have been inspired to research your own family origins by watching a family history programme on TV, by a chat with a relative or by an upcoming family event or anniversary. With so much genealogy information available on line, it can be difficult to know where to look and to assess what is reliable research and not just the result of assumption and guesswork.
Whatever the reason, for you or as a gift for someone else, I can help you discover details of a single ancestor, or compile a complete family tree on one or more of your family lines.
I can take whatever information you have as a starting point for your research, agree a research plan with you and then use all the available sources to put together a professional report into your family origins - fully evidenced (including negative searches, referenced and with all original sources identified and included (copyright permitting). I always aim to put the research findings into their proper historical context - producing an informative and interesting report, not just a succession of genealogical dates and facts.
Family History Talks and Presentations
I am able to give entertaining and interesting talks on a wide variety of family history topics, and I am listed on the FFHS Directory of Speakers.
Please contact me to discuss your requirements and to check availablity.
Family History Teaching
I have more than 25 years experience in the design and delivery of training packages in classrooms, lecture theatres and online, and hold a Certificate in Education from the University of Greenwich. I can offer a range of packages, from individual coaching to "get you started" to a full Family History course for a group of students.
Terms and Payment
On receipt of your enquiry I will contact you to discuss & agree the exact work to be undertaken. Every research job is different, and each commission is assessed and quoted for individually. Fees can be agreed by an hourly rate or by a fixed budget.
Chargeable work includes all research time (other than as part of the initial assessment), subsequent analysis and writing report findings.
Any additional charges for any certificates obtained, pay per view fees, or other incidental expenses incurred are charged at cost price, agreed in advance, and fully itemised to you.
I accept payment in GB pounds by cheque (UK clients only), bank transfer or by PayPal. Any international bank transfer fees incurred are the responsibility of the client.
Once we have agreed a research plan and payment method, I will send an appropriate invoice. Payment in advance is normally required for all research commissions. For larger projects staged payment terms can usually be arranged.
Gift vouchers are valid for 12 months from the date of issue, unless agreed otherwise at the time of purchase.
All research work is undertaken in accordance with the AGRA Code of Practice
---